Bitcoin Price
The past week has seen
Bitcoin
and
Ethereum
explode higher while a majority of altcoins have plunged. On Monday alone, on the day BTC surged by approximately 10% in 24 hours, Bitcoin dominance jumped by 2%. With altcoins undergoing this retracement after a strong rally, analysts have been wondering what comes next for this subset of the cryptocurrency market. A fractal analysis by a trader predicts that what comes next is a rally. Bitcoin undergoing periods of further volatility, though, could send altcoins even lower than they are now. Fractal Predicts An Explosive Altcoin Breakout… Soon
A fractal in technical analysis terms is when the price action of an asset repeats over different time frames and/or for different assets. As Investopedia explains:
"Although prices may appear to be random, they actually create repeating patterns and trends… Fractals refer to a recurring pattern that occurs amid larger more chaotic price movements."
A cryptocurrency trader recently noted that structurally speaking, the altcoin market looks almost identical to Bitcoin during 2015's bear market breakout. That same trader also noted that the altcoin market also looks identical to silver over the past two years.
Should the altcoin market follow the path that silver took and Bitcoin took historically, there will soon be an explosive breakout in digital assets across the board.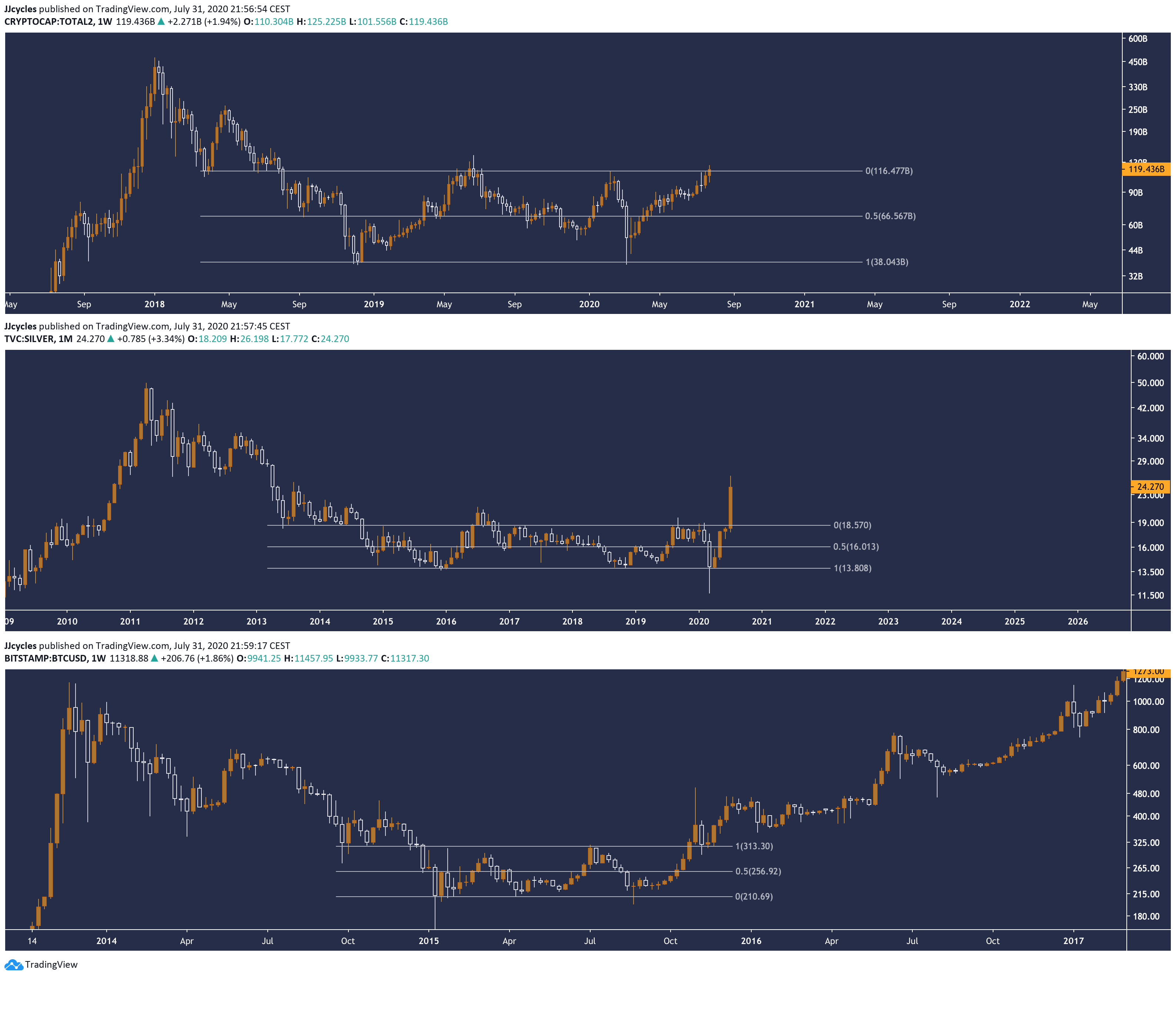 Three charts of the "Total2" crypto market cap, an ounce of silver, and Bitcoin from 2014-2017 by trader "JJCycles" (@JJcycles on Twitter). Chart from
TradingView.com
The fractal also predicts the start of a larger altcoin rally that will see this segment of the industry surpass its 2018 all-time high.
Bitcoin Volatility Could Ruin Altcoins
Analysts say that Bitcoin volatility could ruin the potential altcoins have to rally. Nik Patel, the author of "An Altcoin Trader's Handbook," said that he sees a likely scenario where BTC will continue to rally against altcoins until the $20,000 all-time high:
"Wouldn't surprise me to see dominance now rise until BTC all-time highs (pending a confirmed Weekly breakout above $10,600) > break $20k and alts find another bottom (like Nov/Dec 2016) > they rally concurrently like March-June 2017."
This was echoed by the head of technical analysis of Blockfyre, a crypto research firm. As reported by Bitcoinist, he said on the matter previously:
"If $BTC and $ETH start trending. I'd be cautious on longing #ALTS. Especially if this is the start of a new BTC trend upwards. The most likely out come would be alt/btc pair ratios getting drained while BTC moved past 10.5k in that scenario. I also wouldn't look to fade 1st move."
If Bitcoin's volatility can suppress altcoins in the long run, though, remains to be seen.
Featured Image from Shutterstock Price tags: xbtusd, btcusd, btcusdt Charts from
TradingView.com
An Eerie Fractal Predicts a Huge Altcoin Surge—But Bitcoin Could Stop It