Bitcoin often leads the crypto market, but all eyes seem to be on Ethereum at the moment; in the past day, since Monday's candle open at $142, the second-largest digital asset has rocketed 13% higher, reaching $165 just minutes ago as of the time of this article's writing.
This is the highest price ETH has traded at since March's capitulation event, and 86% higher than the $90 bottom established on that day.
This explosive move higher has liquidated over $1.6 million worth of short positions on BitMEX, according to data from derivatives tracker Skew.com, with thousands of dollars more of liquidations being reported each and every minute.
While $1.6 million may not sound like much, it represents a good portion of the exchange's Ethereum market, which is much less liquid than its Bitcoin counterpart.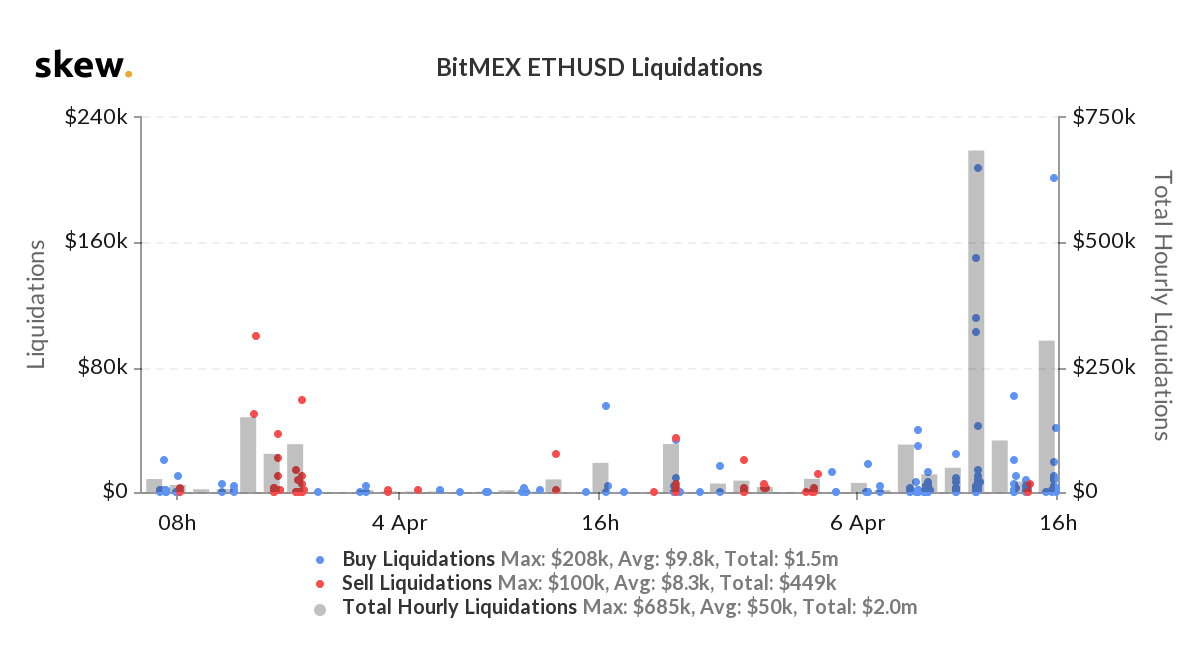 With ETH strongly outperforming Bitcoin, many have been wondering what is behind this trend; data shows that there is a confluence of answers.
Ethereum's explosive move can be attributed to a number of market trends:
Investors are longing ETH: Since the start of the day, U.S. dollar-denominated open interest in the Ethereum contract has risen from $43 million to $67 million now, according to Skew.com data. This indicates that investors are starting to open long positions in response to the move, further pressuring the price higher.Ethereum is catching up to Bitcoin: During March 12's capitulation crash, Ethereum strongly underperformed Bitcoin, falling from $200 to a low of $89 within 24 hours' time, which was more than 50%. The recent rally is likely ETH catching up to Bitcoin, which has nearly recovered all of the March 12th crash.A key technical analysis factor is playing out: Finally,
as reported by NewsBTC previously
, Ethereum has broken out of an ascending triangle pattern, which more often than not results in further upside for the asset involved. Josh Olszewicz, a prominent cryptocurrency analyst who identified this pattern, explained that the recent breakout gives ETH a target of $200, which could be claimed within the next two days.Featured Image from Shutterstock
Ethereum Explodes 15% Higher: What's Behind The Sudden Surge? was last modified: April 6th, 2020 by Nick Chong