Be aware! According to Stop Fundamentalism, the Iranian government closely monitors the usage and distribution of VPNs. Moreover, any VPN related activity is considered a cybercrime and it is punishable by law.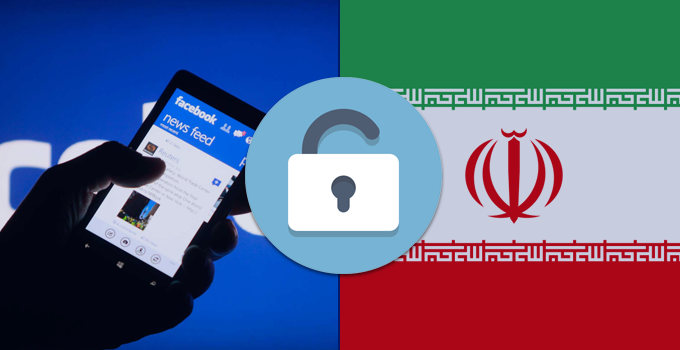 Iran public Internet network filters many popular websites like Facebook or Youtube, that can only be unlocked only by using VPN services or proxies, such as VeePN: https://chrome.google.com/webstore/detail/veepn-unlimited-free-fast/majdfhpaihoncoakbjgbdhglocklcgno?hl=en. The basic function of such services is to allow users to connect to a remote server (not blocked by filters) that act as a middlemen between the blocked servers (where Facebook or Youtube are hosted) and the computer inside the filtered network.
The number of those using this kind of unblocking solutions is rising, according to Iranian state-run news website, ISNA. There may be up to 30% of the Iranian Internet users that use VPNs or proxies.
According to Iran's Minister of Communication, Reza Taghipour, the government has the means of tracking and monitoring those who use such technology and, as it is considered cybercrime, to arrest them.
This is not mush of a surprise. It is well known that the traffic through proxies can be easily monitored and also there were recent evidence that PPTP VPN protocol was cracked. The good news is that there are other VPN protocols that are still secured and (almost) impossible to be decrypted no matter the tracking or monitoring technology. Such VPN protocols like SSTP or OpenVPN are highly available from different VPN providers on the market.
To sum up, unblocking restricted websites in Iran may be a highly risky activity these days unless you use the proper tools and encryption applications.
Everything is impossible ... and everything is possible!

With the exception of places like North Korea, where bans are applied by default, because there are virtually no Internet access points, and those that are are strictly controlled by the government, in other countries the ban on using VPNs does not work at all. In principle, in countries such as Turkey and Iran, the demonstrative use of VPNs in public places is undesirable, as ordinary people, although extremely rarely, can report this to law enforcement agencies. However, as life shows, in countries where virtual private networks are illegal, the use of VPNs for the personal safety of a person is not done demonstratively.
In all countries where the use of VPNs is prohibited by law, bullying is a key government tool. Authorities spread false information that they can figure out everyone who uses a VPN, and that law enforcement agencies often find and arrest violators of the law and suspects. This, as a rule, is not true, since it is practically impossible to break into the encryption tunnel created by a professional VPN.
Technically, of course, the government can prevent the use of VPN by its citizens if it starts to block the IP addresses of VPN servers, but this is almost impossible, because the addresses can change faster than the government blocks them. If you become a Le VPN client, VPN servers from "just" 120+ countries will be at your disposal. There are several servers in each country, you can choose any of them according to your desire.